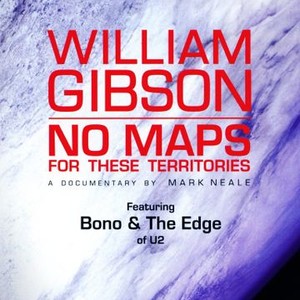 A Profound and Moving Statement About the Human Condition
You don't need to be a fan of William Gibson to get a lot out of "No Maps for These Territories." Taking the simple form of Gibson expounding on a raft of subjects from the backseat of a car en route from Los Angeles to Vancouver, intercut with a breathtaking visual melange to illustrate his points, "Maps" is a good reminder of how truly profound have been the changes in the world in the last few years, as well as what it means to be human -- the only animal that makes maps, after all.

Despite the whole "cyberpunk" label (which he rejects, anyway) Gibson comes across as intelligent, thoughtful and a rather nice person, and he looks at least a good decade and a half younger than his mid-50's baby-boomer age. And his description of his writing process is the most accurate distillation of how creativity works that I've ever heard. There isn't any BS coming from this back seat; Gibson speaks from the heart and it shows.

Oddly enough, it's the hardcore fans who might be the most disappointed in this film. Gibson is almost self-deprecating in talking about his work and his fame. But it's a film that deserves to be seen, and listened to with great attention. It's also done with a stunning style that adds to, rather than distracts from, the content. The film begins with frenetic, quick-cut images, but ends up in a beautiful, elegiac mood as we drive down a fog-shrouded bridge while U2's Bono reads from Gibson's unpublished Memory Palace. The end result is moving, haunting and worth many repeat viewings to take it all in.
William Gibson
William Ford Gibson (born March 17, 1948) is an American-Canadian speculative fiction writer and essayist widely credited with pioneering the science fiction subgenre known as cyberpunk. Beginning his writing career in the late 1970s, his early works were noir, near-future stories that explored the effects of technology, cybernetics, and computer networks on humans—a "combination of lowlife and high tech"—and helped to create an iconography for the information age before the ubiquity of the Internet in the 1990s. Gibson coined the term "cyberspace" for "widespread, interconnected digital technology" in his short story "Burning Chrome" (1982), and later popularized the concept in his acclaimed debut novel Neuromancer (1984). These early works of Gibson's have been credited with "renovating" science fiction literature in the 1980s.
After expanding on the story in Neuromancer with two more novels (Count Zero in 1986, and Mona Lisa Overdrive in 1988), thus completing the dystopic Sprawl trilogy, Gibson collaborated with Bruce Sterling on the alternate history novel The Difference Engine (1990), which became an important work of the science fiction subgenre known as steampunk.
In the 1990s, Gibson composed the Bridge trilogy of novels, which explored the sociological developments of near-future urban environments, postindustrial society, and late capitalism. Following the turn of the century and the events of 9/11, Gibson emerged with a string of increasingly realist novels—Pattern Recognition (2003), Spook Country (2007), and Zero History (2010)—set in a roughly contemporary world. These works saw his name reach mainstream bestseller lists for the first time. His most recent novels, The Peripheral (2014) and Agency (2020), returned to a more overt engagement with technology and recognizable science fiction themes.
In 1999, The Guardian described Gibson as "probably the most important novelist of the past two decades", while The Sydney Morning Herald called him the "noir prophet" of cyberpunk. Throughout his career, Gibson has written more than 20 short stories and 12 critically acclaimed novels (one in collaboration), contributed articles to several major publications, and collaborated extensively with performance artists, filmmakers, and musicians. His work has been cited as influencing a variety of disciplines: academia, design, film, literature, music, cyberculture, and technology.
From the back of a chauffeured limousine equipped with a computer, cell phone and digital cameras, legendary science-fiction writer William Gibson, author of "Neuromancer," embarks on an unusual cross-country trip. In this technological cocoon, the man who created the term "cyberspace" comments on an array of subjects -- including his literary success, what led to his writing career and how the modern world is starting to resemble the futuristic one he writes about.
Genre:
Documentary
Original Language:
English
Director:
Producer:
Writer:
Release Date (Streaming):
Runtime:
Sound Mix:
Surround